---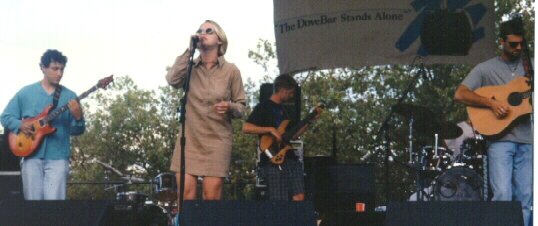 Good shot of Kenny, Michele, Nate, and Dave at Bumbershoot '96
---
Welcome to the Unofficial Calobo Fan's Page
Hi! My name is Carol and I would like to have you join my celebration of the sounds and sights of CALOBO. For those of you who have not had the pleasure of hearing this amazing band from Portland, Oregon, hold onto your seats!
This seven member band with the big sound has just released their 4th CD "Stomp" in April, and it is a great collection of Calobo's diverse mix of sounds.
My family has been big fans for several years, when they played with Acoustic Junction (now called Fools Progress) in Oregon. They always put on a wild and energetic live show, so we were "hooked". This Homepage is under construction, and anyone who would like to contribute reviews, comments or pictures, please email me. I hope to have a page dedicated to the lyrics of the songs on the CD's first, then the other songs not yet on CD.
Life is a journey....stop awhile and enjoy CALOBO with me.
---
Calobo Message board!(Slow sometimes)
---
Latest changes to this site: Changed thumbnail sizes, added links to Oregon Hippie, Hanuman, CD Universe, Mass Music, The Rocket Magazine, and Cellophane Square.
---
Like Calobo? Try these.
Other cool links
---
Calobo Fans have visited here
times.
---
Email me
calobofan@hotmail.com
Edmonds, WA